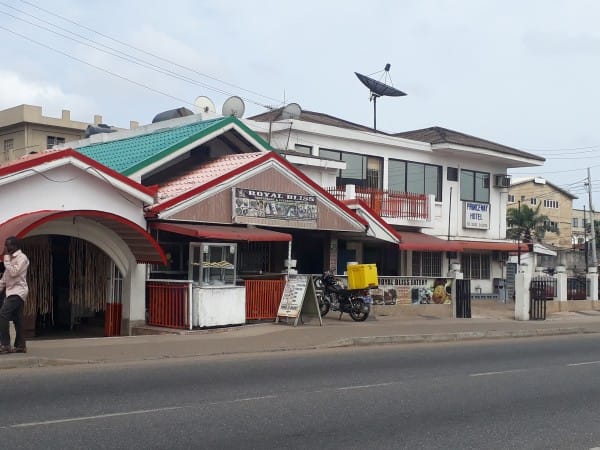 Royal Bliss Restaurant and Bar
Experience culinary excellence at Royal Bliss Restaurant and Bar, renowned as one of the finest fast-food joints in Ghana and one of Accra's premier Chinese restaurants, offering exceptional food and delivery services. Located in Carprice, just a few miles from Kwame Nkrumah Circle, Accra, we take pride in serving a delectable array of Local, Continental, and Chinese cuisines.
Passion for Food Our unwavering passion for food sets us apart as the best Local and Continental restaurant in Accra. We are driven by a deep-rooted love for exceptional cuisine, never compromising on the quality of ingredients, authenticity of flavors, or the skill of our chefs. Excellence is our standard.
Our Team Our team comprises industry-leading experts in kitchen operations, customer service, marketing, and more. With hands-on experience in top-tier service institutions, we work together to continuously elevate our offerings.
Commitment to Hygiene Hygiene is our top priority, ensuring that your dining experience is both safe and enjoyable. Our modern, thoughtfully designed interior blends elements of West African local crafts and architectural styles, creating a pleasing ambiance in a green and serene environment.
Customer Focus We value and prioritize customer feedback, constantly refining our menu planning, service standards, and operational procedures to exceed your expectations on a daily basis.
Quality Catering Services For all your special occasions, we provide quality catering services at affordable prices. Let our delicious food and superior customer service transform your parties, events, picnics, and office meetings into priceless memories. We use only the finest natural ingredients, select meats, fresh seafood, and vegetables. Moreover, we offer both vegan and non-vegan options, catering to diverse dietary preferences.
Satisfying and Nourishing Whether it's a busy workday, a late-night gathering with friends, a family affair, or a solo visit, we aim to make your mealtime satisfying and nourishing. Our Local and Continental dishes, featuring a variety of meats and vegetables complemented by flavorful curry sauces crafted from herbs and spices, are simply mouthwatering. Indulge in our tantalizing Tandoori specials, prepared with the same care and love as mom's homemade recipes from the Indian kitchen.
Convenience and Flexibility We offer the convenience of carry-out, pick-up, and delivery services, ensuring you can enjoy our delicious meals whether you're relaxing at home or busy at the office.
Supporting Your Healthy Lifestyle We are committed to supporting your healthy lifestyle choices. Our goal is to provide an enjoyable atmosphere with the best-tasting Local and Continental foods, an emphasis on quality drinks, and exceptional service to enhance your dining experience.
Contact Listings Owner Form