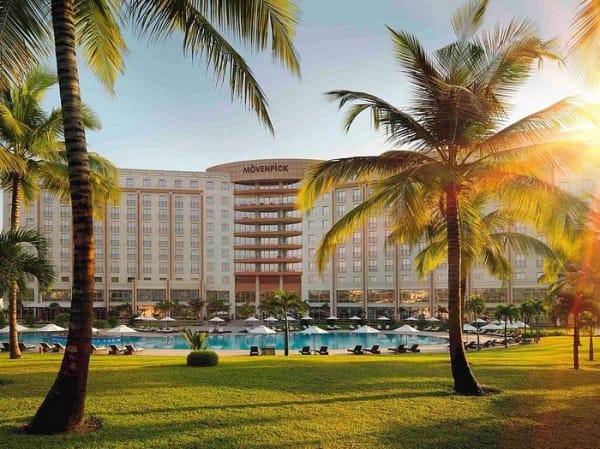 Movenpick Ambassador Hotel
The Mövenpick Ambassador Hotel, situated in the heart of Accra's city center, is Ghana's largest 5-star hotel. Boasting 260 rooms, including a stunning 320sqm Presidential Suite, 15 Junior Suites, and 61 Executive Club rooms with access to the luxurious Executive Lounge, this hotel offers unparalleled luxury. Its prime location, just 7 km from Kotoka International Airport, provides guests with easy access to the bustling business district of Accra.
For business travelers, the Mövenpick Ambassador Hotel offers state-of-the-art meeting and conference facilities, including a grand ballroom, pre-function area, and five spacious meeting rooms equipped with cutting-edge technology. These amenities ensure that all business activities run seamlessly.
Guests can also enjoy a wide array of dining and entertainment options within the hotel. The Mövenpick Ambassador Hotel boasts exquisite culinary experiences, with a variety of continental and local cuisines available at the prestigious food outlets. The Sankofa terrace offers the option of outdoor dining, perfect for basking in the Ghanaian sun.
In addition to its luxurious accommodations and dining options, the hotel features a pool, spa, and fitness center for guests to unwind and rejuvenate.
The Mövenpick Ambassador Hotel's location within the Central Business District makes it an ideal choice for both business and leisure travelers. Its proximity to Kotoka International Airport and key attractions such as the International Conference Centre, Ministries, and Banking District, adds to its convenience and appeal.
Whether you're attending a conference, exploring the vibrant city of Accra, or seeking a luxurious retreat, the Mövenpick Ambassador Hotel offers the perfect blend of comfort, sophistication, and convenience.
Contact Information
PMB CT 343, Cantonments Ridge , Accra, Ghana
Contact Listings Owner Form